Dojazd
Stambuł - Zostal zalozony w VII wieku p.n.e. jako kolonia grecka -- Byzantion (Bizancjum).
W czasach rzymskich Bizancjum urosło do rangi głównego miasta wschodniej, greckiej czesci cesarstwa. W 330 r. cesarz Konstantyn Wielki przeniósl tu stolice imperium i nazwal miasto Nowym Rzymem. Bardziej upowszechniła sie jednak nazwa utworzona od imienia cesarza - Konstantynopol. Nic juz nie powstrzymało cesarstwa od rozpadu. W nastepnym wieku jego zachodnia cześć z Rzymem uległa najazdom Germanów i ostatecznie upadla w 476 r. Wschodnia część imperium, nazwana od swej stolicy - Cesarstwem Bizantyjskim, przetrwać miała przez kolejne tysiąc lat.
Aya Sofia wzniesiona w VI wieku za panowania Justyniana Wielkiego. Potezne mury obronne, uchodzace za nie do zdobycia, chronily miasto od strony ladu. Z pozostalych stron naturalna obrone stanowily Zloty Róg oraz wody Bosforu. Dzieki tak doskonalemu polozeniu strategicznemu miasto moglo opierac sie przez cale wieki najazdom Germanów, Slowian, Arabów i Franków. W 1204 r. Konstantynopol zostal jednak zdobyty i zlupiony przez Krzyzowców, który woleli uderzyc na bogate miasto zamiast odbijac z rak niewiernych Ziemie Swieta.
Wzrost potegi nowego imperium Osmanów okazal sie jednak smiertelnym ciosem dla upadajacego Cesarstwa Bizantyjskiego. W 1453 r. wojska tureckie dowodzone przez Mehmeda II przystapily do ostatecznego oblezenia miasta. Sprytnym zabiegiem przeniosly swoje lekkie lodzie przez lancuchy zamykajace wejscie do Zlotego Rogu. Miasto nie zabezpieczone przed atakiem od strony portu latwo uleglo Turkom. Wraz ze zdobyciem Konstantynopola przestalo istniec tysiacletnie Imperium Bizantyjskie, a date jego upadku historycy tradycyjnie przyjmuja za poczatek ery nowozytnej.
Aya Sofia, glówna swiatynia wschodniochrześcijańska, została zamieniona w meczet, podobnie jak wiele innych kosciolów miasta. Konstatynopol zostal obrany za siedzibę sułtana. Ponad miastem wyrosły minarety. Pomimo dominacji muzulmanskiej w miescie zachowala sie jednak spora grupa chrzescijanskiej spolecznosci greckiej, a stolica Imperium Osmanskiegomiala w duzej czesci charakter miedzynarodowy.
Wszystkie budowle najbardziej interesujace dla turysty znajduja sie blisko siebie, w zasiegu pieszego spaceru od dworca kolejowego Sirke¸i. Zajmuja one wzgórze zwane Sultanhelmet.
Centralna jego czesc zajmuje budowla najczesciej kojarzona ze Stambulem. Jest to Kosciól Madrosci Bozej czyli Aya Sofya, znana najczesciej pod grecka nazwa: Hagia Sophia. Swiatynia zostala poswiecona w 537 r. Jej okazala kopula przez dlugi czas byla najwieksza na swiecie. Mimo przebudów po kolejnych trzesieniach ziemi budowla zachowala sie w malo zmienionym stanie. Najbardziej widocznym dodatkiem sa minarety dobudowane po zajeciu Konstantynopola przez Turków, gdy kosciól zamieniono na meczet. Z bogatych niegdys mozaik pozostaly jednak do dzis tylko resztki. Malo zmienione wyposazenie kosciola bizantyjskiego z pieknymi mozaikami mozna ogladac w Kariye Camii, czyli kosciele sw. Zbawiciela na Chórze, lezacym juz poza murami Starego Miasta.
Na przeciwko Aya Sofyi wnosi druga okazala budowla miasta: Blekitny Meczet, czyli Sultanhelmet Camii. Zostal wzniesiony na rozkaz sultana Ahmeda w 1616 r. Jego architektura miala przycmic swietnosc Aya Sophi. Dla dodania powagi swiatyni sultan kazal wzniesc przy niej az szesc minaretów. Po tym fakcie zawrzalo w swiecie islamu, gdyz szesc, czyli najwiecej, minaretów posiadal tylko najwazniejszy meczet swiata w Mekce. Kompromisowym rozwiazaniem okazalo sie dopiero dobudowanie w Mekce siódmego minaretu. W ciagu dnia jest najliczniej odwiedzany przez turystów meczet miasta, nie za bardzo mozna w nim wiec odczuc klimat swiatyni muzulmanskiej. Warto tu jednak przyjsc wieczorem, gdy odbywa sie widowisko dzwieku i swiatla reflektorów oswietlajacych swiatynie. Pod wzgledem architektonicznym najokazalszy w miescie jest jednak znajdujacy sie w centrum Starego Miasta Meczet Sulejmana Wspanialego(Snleymaninye Camii). Obok znajduje sie otaczany do dzis kultem grobowiec sultana. Najswietszym dla muzulmanów jest jednak Meczet Ajjuba EYUP SULTAN CAMII, znajdujacy sie poza Starym Miastem nad Zlotym Rogiem. Jest to trzecie swiete miejsce Islamu po Mekce i Jerozolimie. Obecna budowla zostala wzniesiona w 1800 r. w miejscu smierci Abu Ajjuba, przyjaciela Mahometa podczas oblezenia Konstantynopola w 674 r.
Trzecia najwazniejsza budowla wzgórza Sultanhlemet jest palac Sultana Topkapi (Topkapi Saray). Pawilony palacu rozrzucone sa wsród zieleni ponad Bosforem. Najwieksza atrakcje stanowi dawny harem. Sultan mógl miec nawet 1200 zon. Poniewaz zawsze budzil kontrowersje problem dziedziczenia wsród licznych potomków sultana, utarl sie zwyczaj, ze wladze obejmowal najstarszy z jego synów i usmiercal, wzglednie wiezil wszystkim swoich braci. Szczególe zainteresowanie wzbudza w obrebie palacu takze skarbiec ze swietymi relikwiami islamu.
Z posród pozostalosci bizantyjskich szczególne wrazenie wywrzec moze Podziemny Palac Tysiaca Kolumn. W rzeczywistosci jest to ogromna podziemna cysterna na wode z 532 r. ze stropem podtrzymywanym przez 336 kolumn. Wnetrze jest oswietlone a wypelniajace je operowa muzyka stwarza niesamowity nastrój.
Muzem Archoelogiczne i Muzeum Starozytnego Wschodu (Arkeoloji Mnzesi, Eski Sark Eserleri Muzesi), przy palacu Topkapi -- muzea posiadaja wspaniala kolekcje sztuki starozytnego Rzymu, Grecji, Egiptu, Mezopotamii oraz zabytki hetyckie. Szczególnie cenny jest Sarkofag Aleksandra z Sajdy (Sydonu).
Muzeum Mozaik (Mozaik Mnzesi), w poblizu Blekitnego Meczetu -- podziemna ekspozycja ukazuje kilkanascie mozaik bizantyjskich z palacu cesarskiego, odkrytych w latach 30. XX wieku..
Muzeum Sztuki Tureckiej i Muzulmanskiej (Tnrk ve Islam Eserleri Mnzesi), Binbirdirek -- miesci sie w okazalej rezydencji wielkiego wezyra Ibrahima Paszy. Muzeum prezentuje ceramike, manuskrypty, okazy kaligrafii, szklo i dywany z Turcji i innych krajów muzulmanskich.
Jezeli myslimy w Stambule o zakupach koniecznie trzeba odwiedzic Kryty Bazar -- Kapali †arei. Obejmuje on znaczny kwartal Starego Miasta przykryty wspólnym dachem wraz z ulicami.
Bedac w Stambule koniecznie trzeba zajsc do Lazni Tureckiej. Wielowiekowa tradycja lazni od dawna zapewniala czystosc, jakiej nie da osiagnac w wannie lub pod prysznicem. Wspólne korzystanie z lazni przez mezczyzn i kobiety jest surowo zabronione, chociaz w hotelach robi sie wyjatki dla turystów. Najbardziej znane laznie mieszcza sie w rejonie Sultanhelmet. Naleza do nich †embertlDtas oraz †inili.
Tak, jak pisałam, wybierz się
na Sultanahmet, pospaceruj uliczkami, możesz wstąpić do Błękitnego Meczetu
(wstęp darmowy, brak długich kolejek do wejścia). Polecam również Cysterny
Yerebatan, bardzo klimatyczne miejsce. Widoki są najładniejsze z brzegów Bosforu
i wieży Galata. Miły jest też spacer po parku Gulhane przy Pałacu Topkapi.
Wracając na lotnisko możesz zahaczyć o Kryty Bazar
Dzielnica Sultanahmet, rzut okiem na Hagia Sophia, hipodrom i Błękitny Meczet, oraz spacerek nad Bosforem.
W Bosforze płyną dwa prądy morskie: powierzchniowy o prędkości 4 km/h wynoszący wodę wysłodzoną z Morza Czarnego oraz przeciwnie skierowany prąd głębinowy o dużym zasoleniu.
W Stambule zbudowano dwa mosty łączące brzegi Bosforu, jeden zwany Mostem Bosforskim (południowy, ukończony w 1973, długość 1074 m) i drugi – Most Mehmeda Zdobywcy (północny, ukończony w 1988, długość 1090 m). Obecnie w fazie budowy jest podwodny tunel kolejowy Marmaray mający połączyć oba brzegi cieśniny. Planuje się również budowę trzeciego mostu drogowego, wysuniętego bardziej na północ od dwóch poprzednich.
Wycieczka statkiem po cieśninie jest polecaną atrakcją turystyczną Stambułu.
GRUZJA
Tbilisi: Zabytki: cerkiew Metechi i Anczischati, katedra Sioni, twierdza Narikała, łaźnie tureckie, główna arteria miasta Aleja Szoty Rustawelego (świadek wydarzeń z najnowszej historii Gruzji), spacer urokliwymi uliczkami starego miasta na brzegu rzeki Kury. Muzeum sztuki gruzińskiej i muzeum historii Gruzji.
Kachetia -- region (Ikalto, Alawerdi)
Dawid Garedża, monasteru na południowo-wschodnich bezdrożach kraju, zwiedzanie cel mnisich wykutych w skale. Zwiedzanie górskiej twierdzy Udżarmy.
http://pl.wikipedia.org/wiki/Dawid_Gared%C5%BCa
Gruzińska Droga Wojenna przez przełęcz Krestową (2379 m n.p.m.) do Kazbegi. Po drodze zwiedzanie pięknego monastyru Dżwari górującego nad Mchcetą oraz twierdzy Ananuri.
Do Borjomi. Po drodze zwiedzanie dawnej stolicy Gruzji Mcchety: cerkiew Samtarwo, katedra Sweti Cchoweli z grobowcami gruzińskich królów, ruiny twierdzy.
Vardzia,  miasto wykute w skale. Po drodze ruiny zamku Chertwisi (Khertvisi)
http://www.kaukaz.pl/gruzja/turystyka/zabytki/miasto_skalne_wardzia.php
Gori -- miasto Stalina, muzeum Stalina.
Twierdza Goris-ciche, przejazd do Uplisciche -- kamiennego miasta z X w p.n.e (koło Gori i Kheltubani).
http://www.starozytne-miasta.art.opole.pl/upliscyche.php
http://www.krajoznawcy.info.pl/Upliscyche-W-najdawniejszej-stolicy-Gruzji-a1266.php
Inne źródła:
WSCHODNIA TURCJA
VAN -- dawne ormiańskie miasto. Nad jeziorami Wan i Sewan powstała kolebka cywilizacji ormiańskiej, zaś Ararat (na którym ukryta jest ponoć Arka Noego) jest świętą górą. Kościół autokefaliczny.
Akdamar -- kościół z X w.
Yousufeli -- ładne widoki.
Ani -- przy granicy z Turcją. Kościoły
Harran -- leży na południu.
ARMENIA
http://www.wakacjezprzewodnikiem.pl/europa/armenia-przewodnik.html
Najstarsze zabytki Armenii, megality pochodzą z epoki neolitu (koniec III tysiąclecia p.n.e.). W I tysiącleciu p.n.e. powstały też atrakcyjne turystycznie cyklopowe mury obronne w basenie jeziora Sewan i góry Aragac. Do typowego krajobrazu Armenii należą także twierdze (takie jak Magasberd, Amberd), zespoły klasztorne (Sanain, Agarcin, Goszawank, Achpat) i chaczkary, pamiątkowe płaskorzeźby kamienne.
Erewan
- Muzeum Ludobójstwa
- Park Tsitsernakaberd, niedaleko stadionu i mostu Kievian
- Narodową Galerię Sztuki Armenii (obok Placu Republiki)
- Państwowe Muzeum Historii Armenii (przy Plac Republiki)
- Muzeum Erewania (Erebuni 38)
- Muzeum wojny (Matka Armenia), Park Zwycięstwa
Do niewątpliwych atrakcji turystycznych zaliczyć można tzw. wernisaż, czyli ogromne targowisko organizowane na placu Hanrapetutyan.
Obok Stolicy warto również odwiedzić podczas podróży po Armenii takie miejsca jak; Khor, Virap, Areni, Noravank, Smbataberd, Tatev, Vardenis, Vanevank, Teyseba Hoyravank, Kakavaberd.
Echmiadzin
Wartym odwiedzenia jest także Echmiadzin, który jest nazwany ormiańskim Watykanem. W odróżnieniu od pozostałych kościołów w Armenii jest on bogato zdobiony. Na ścianach znajdują się kolorowe mozaiki, piękny ołtarz na środku, żyrandole i niesamowite sklepienie.
Zabytkowy zespół katedralny -- najstarszy kościół Armenii i całego byłego ZSRR, siedziba najwyższego patriarchy Apostolskiego Kościoła Ormiańskiego, noszącego tytuł Katolikosa Wszystkich Ormian. Czwarte pod względem wielkości miasto kraju.
W miejscu dzisiejszego Eczmiadzyna osiedla istniały już w epoce kamienia, a potem w epoce brązu i żelaza. Z VIII wieku p.n.e. datuje się inskrypcja klinowa opisująca otwarcie kanału doprowadzającego wodę z rzeki Ildaruni do miasta Kwarlini, leżącego w miejscu centrum dzisiejszego Eczmiadzyna. W VI wieku p.n.e. miasto zostało przebudowane i nazwane Wardkesawan.
Za panowania króla Armenii Tigranesa Wielkiego w I wieku p.n.e. miasto stało się ośrodkiem handlu i do pewnego stopnia się zhellenizowało.
W IV w. n.e. miasto straszliwie ucierpiało od najazdów perskich, a zwłaszcza za panowania króla perskiego Szapura II (310-379), który dokonał niszczącego najazdu na Armenię: po straceniu jej władcy Arszaka II, w roku 367, Szapur celowo wydał Armenię na łup swojej armii, wskutek czego zniszczeniu i rozgrabieniu uległo wiele miast w tym kraju, m.in. właśnie Wagarszapat.
Największy skarb Eczmiadzyna powstał wskutek chrztu Armenii i bezpośrednio po tym zdarzeniu. "Kościół-Matkę" -- katedrę w Eczmiadzynie -- zaczęto budować już w 301, a ukończono w 303. Legenda głosi, że miejsce budowy katedry wskazał świętemu Grzegorzowi Oświecicielowi sam Chrystus -- w każdym razie tak powstała nazwa "Edż Miacin", znacząca "Zstąpienie Jednorodzonego". Kompleks katedralny stał się siedzibą biskupów, a potem patriarchów Apostolskiego Kościoła Ormiańskiego, ośrodkiem szkolnictwa i nauki w czasach rozkwitu ormiańskiej kultury, które niedługo później nadeszły. Katedrę kilkakrotnie burzyły obce najazdy -- dzisiejszy gmach pochodzi z 480. Katedrę odnowiono na początku VII wieku. Wtedy też zbudowano klasztory świętej Rypsymy (618) i świętejGajany (632).
Na przełomie IV i V wieku w Eczmiadzynie przebywał z przerwami, twórca alfabetu armeńskiego (używanego aż po dziś dzień), Mesrop Masztoc (359-440).
Kompleks katedralny w Eczmiadzynie jest świętością narodową Ormian i zabytkiem wpisanym na listę światowego dziedzictwa UNESCO (obok drugiego kompleksu kościelnego w pobliskim Zwartnoc). W eczmiadzyńskiej katedrze są przechowywane zabytkowe iluminowane rękopisy, ikony, rzeźby, krucyfiksy. Nad głównym wejściem wisi włócznia (Geghard), podobno ta, którą przebito bok Chrystusa na krzyżu.
Wyświetl mapę
Khor Virap
Khor Virap is an Armenian Apostolic Church monastery located in the Ararat plain in Armenia, near the border with Turkey, about 8 kilometres (5.0 mi) south of Artashat, Ararat Province.
Khor Virap's notability as a monastery and pilgrimage site is attributed to the fact that Grigor Lusavorich, who later became Saint Gregory the Illuminator, was initially imprisoned here for 13 years by King Tiridates III of Armenia. Saint Gregory subsequently became the king's religious mentor, and they led the proselytizing activity in the country. In the year 301, Armenia was the first country in the world to be declared a Christian nation.[1][4][5] A chapel was initially built in 642 AD at the site of Kirat Virap byNerses III the Builder as a mark of veneration to Saint Gregory.
http://en.wikipedia.org/wiki/Khor_Virap
Wyświetl mapę
Areni
We wsi znajduje się kościół z XIV wieku -- Surb Astvatsatsin to Ormiański Kościół ukończony w roku 1321 znajduje się na szczycie płaskowyżu z widokiem na rzekę Areni i Arpę. Został zaprojektowany przez architekta i rzeźbiarza Momik'a Vardpet'a, który jest znany z projektu kompleksu klasztornego Noravank (w odległości około 6 kilometrów na południowy wschód od Areni). W pobliżu znajdują się również ruiny z XIII wieku pałacu Tarsaitch Orbelian władcy Syunik'a, przeniesiony z Yeghegis do Areni w tym czasie. Ruiny mostu z XIII wieku zbudowanego przez biskupa Sarkis w latach 1265-87 leżą na północny wschód od kościoła w odległości jednego kilometra. W tym samym miejscu znajdują się pozostałości starszego mostu.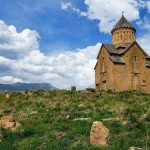 Wyświetl mapę
Noravank
is a 13th century Armenian Apostolic Churchmonastery, located 122 km from Yerevan in a narrow gorge made by the Amaghu river, nearby the city of Yeghegnadzor,Armenia.

Jezioro Sewan to największe jezioro Kaukazu oraz jedno z najwyżej położonych jezior świata (1916 m n.p.m). Na brzegu jeziora znajdują się liczne plaże, które odwiedzane są przez turystów z Armenii jak i innych krajów. Na północno-zachodnim brzegu, koło miasta Sewan, znajduje się także słynny klasztorSewanawank, zaś na zachodnim Hajriwank. Tereny południowe w regionie Noratus, to także zabytkowy cmentarz zawierający około 900 chaczkarów.